Australia is seeking experienced Registered Nurses
Australia is critically short of Registered Nurses due to the fact that Australia's population is living longer, and demanding more, and higher quality medical services. Australian Universities have increased the number of Nursing graduates by 50%, but are still unable to keep up with the increase in demand for Hospital and Aged Care services.

Government Guaranteed Path to Permanent Residence
The greatest opportunities for experienced Registered Nurses are in the Regional areas, rather than the cities. Accordingly, the Australian Government has provided significant incentives for experienced Registered Nurses to achieve Permanent Residence in a relatively short period of time.
These incentives include many of the benefits enjoyed by Australian Citizens and Permanent Residents, but awarded before the final grant of Permanent Residence, provided the applicant fulfils the conditions of the visa. 
Employer Sponsorship provided
We are able to facilitate sponsorship by employers who have been approved by the Australian Government to sponsor Registered Nurses on a Provisional Permanent Residence visa.
 The primary requirements of this visa include 3 years full time previous experience as a Registered Nurse, in any country, nurse registration in Australia with AHPRA, the nurse registration authority in Australia.
 If you do not have registration in Australia, we can, under certain circumstances, facilitate AHPRA registration.
Attractive Salary, Terms and Conditions
Registered Nurses in Australia are among some of the highest paid professionals in Australia, and indeed the world. Salaries for experienced Registered Nurses are well above, on average, those paid in the UK, Ireland, and Asia.
The Cost of Living in Australia is relatively low in the regional areas, when compared to cities in Australia, and indeed when compared to the UK and Ireland.
The majority of Registered Nurses in Australia who we have recruited have been able to purchase a home, and enjoy a very good lifestyle.
Australians have an average life expectancy of 81 years, one of the highest in the world, have access to the best healthcare through Medicare, a strong Public and private partnership
Australia due the excellent health system and strong government support, one of the lowest death rates in the world
The world bank has in the past continually rated Australia with a high quality of life and high incomes for professional such as Registered Nurses.  
Life in Regional Australia
The majority of Australians live in the coastal areas of Australia.
Some examples of regional locations include:
The Central Coast is a region of New South Wales, Australia, lying on the Pacific Ocean north of Sydney. Known for its beautiful harbour setting, lovely beaches, pretty local villages, boutique hotels, stunning coastal terrain, great shopping and lush national parks.
Population: 354,915 (2021)
The Central Coast makes for a perfect place to live. There are several popular beach towns here, including Avoca, Terrigal and The Entrance.
The Entrance is a resort area offering a range of recreation at the confluence of the ocean and Tuggerah Lake, a saltwater wetland. The city of Gosford is the main commercial hub and visitor gateway The Central Coast is a peri-urban region in New South Wales, Australia, lying on the Tasman Sea coast to the north of Sydney and south of Newcastle.With coastal drives, hinterland forest and beaches where you're the only person standing on the sand, the New South Wales Central Coast is Sydney's best-kept secret.
The Central Coast is an easy one-hour drive north from Sydney.
Simply follow the Pacific Highway – Australia's National Route 1 – north from Sydney's city centre until it joins the M1 Pacific Motorway, then take the sign-posted exit to your destination.
The Sunshine Coast encompasses beach resorts, surf spots and rural hinterland in southern Queensland, Australia. It stretches from the coastal city of Caloundra, near Brisbane, north to the Cooloola section of the Great Sandy National Park, home to multicoloured sand dunes, mangrove forests, and shallow lakes. Upscale Noosa Heads has boutique shops, waterways, and walking trails through Noosa National Park.
Stawell, is an Australian town in the Wimmera region of Victoria 237 kilometres west-north-west of the state capital, Melbourne. Located within the Shire of Northern Grampians local government area, it is a seat of local government for the shire and its main administrative centre.
Population of the region: 11,000 (2021)
 Secondary education is serviced by Stawell Secondary College. Primary education facilities include Stawell Primary School, Stawell West Primary School and St Patrick's Catholic Primary. Early childhood education facilities include Early Learning Centre, Taylor's Gully and Cooinda Kindergartens. Special education is provided by Skene Street School. Alternative High Schools include Ararat College and Marian College, both only a short drive away in the town of Ararat.
What Careers are Available in Australia?
Australia requires nurses in the specialty areas of nursing where the shortages are most acute, rather than general Medical/ Surgical departments.
These areas include Aged Care homes and Acute Care Hospitals;
Cardiothoracic

ICU

Operating Theatre

Orthopedic

Neuro Surgery

Emergency
Aged care nursing in Australia
While most Asian nurses are not familiar with aged care nursing homes, next to hospitals, Aged Care is the largest employer of nurses in most western countries including Australia.
There are almost 3,000 aged care homes in Australia caring for 155,000 residents.

There are over 35,000 registered nurses caring for these residents.

Almost 70% of these residents require a high level of care.
Opportunities for Overseas Nurses in Hospitals
There are 1291 hospitals in Australia, with 81,818 beds, 7.3 million patients and 24.3 million patient days
The average stay in a hospital is therefore 3.3 days.

Public hospitals account for 67% of the available beds, and private 33%.

Private hospitals have a greater proportion of surgical patients than Public Hospitals, where medical patients predominate.
More like a family than a recruitment agency.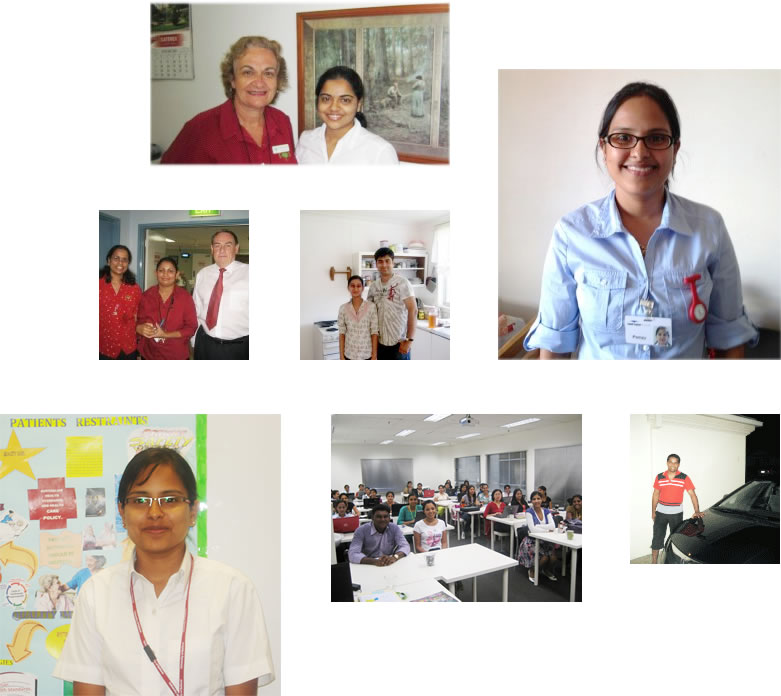 "I like everything about this country – the people, the living conditions, the culture – and I'm very thankful for Nursing Careers Australia in helping me find a great job so quickly."

Shankur from Kerala
"I like everything about this country – the people, the living conditions, the culture – and I'm very thankful for Nursing Careers Australia in helping me find a great job so quickly."

Shankur from Kerala
"I like everything about this country – the people, the living conditions, the culture – and I'm very thankful for Nursing Careers Australia in helping me find a great job so quickly."

Shankur from Kerala