This website is owned and operated by Nursing Careers Australia Pty Ltd. Please note that this privacy policy, outlined below, governs the collection, storage, use and disclosure of information collected via this website only and that a separate privacy policy governs information collected in any other way.
Personal Information
Personal information voluntarily submitted – e.g. when sending an enquiry form, referral form or contact form – will never be disclosed to any third party without your express permission. Providing us with your personal information is absolutely optional. When you provide us with your personal information, you are consenting to our storage, use and disclosure of that information as outlined in this Privacy Policy.
Website Usage Information and Cookies
Most websites, including www.nursingcareersaustralia.com.au use 'cookies' which are pieces of information that websites send to the browser and are stored in the computer hard-drive. Cookies are only read by the server that placed them, and are unable to read data from hard disks, execute any code, send you viruses or destroy your files. Cookies make using the Website easier by storing information about your preferences on the Website.
Cookies collect information about:
the previous website you visited;
which pages you view;
how long you visit a page for;
what other pages within the site you visit;
what order you visit our webpages.
We use Google Analytics features, which use cookies to inform us of how visitors use our site based on their browsing habits. This is so that we can improve our site to make it easier for you to find the information you are seeking, identify the most popular areas of our site and determine the effectiveness of our services and promotional activities.
A cookie does not identify you personally, but it does identify computers. If you would prefer not to receive cookies, you can alter your security settings on your web browser to disable cookies or to warn you when cookies are being used. You can set your browser to notify you when you receive a cookie and this will provide you with an opportunity to either accept or reject it in each instance.
Disclaimer
The use of information and data contained on this website is at your own risk. While every effort is made to ensure that information or data provided on this site is accurate and current, it is intended as a guide only.
The Nursing Careers Australia website contains links to other websites. The Bay Retreats Pty Ltd is not responsible for the privacy practices or content of any websites other than those owned by Nursing Careers Australia Pty Ltd.
Copyright
All material presented on this site is subject to copyright by Nursing Careers Australia Pty Ltd unless sourced from another party where copyright to them is acknowledged. Nursing Careers Australia makes no representations that material on this site does not infringe intellectual property rights of any person anywhere in the world. These clauses extend to any other site to which this site is linked and should be read accordingly.
Updates to the Privacy Policy
Please note that we review and modify our privacy practices from time to time, and that those practices are therefore subject to change. We may revise this Privacy Policy from time to time by updating this page. The revised Privacy Policy will take effect when it is posted on our website.

More like a family than a recruitment agency.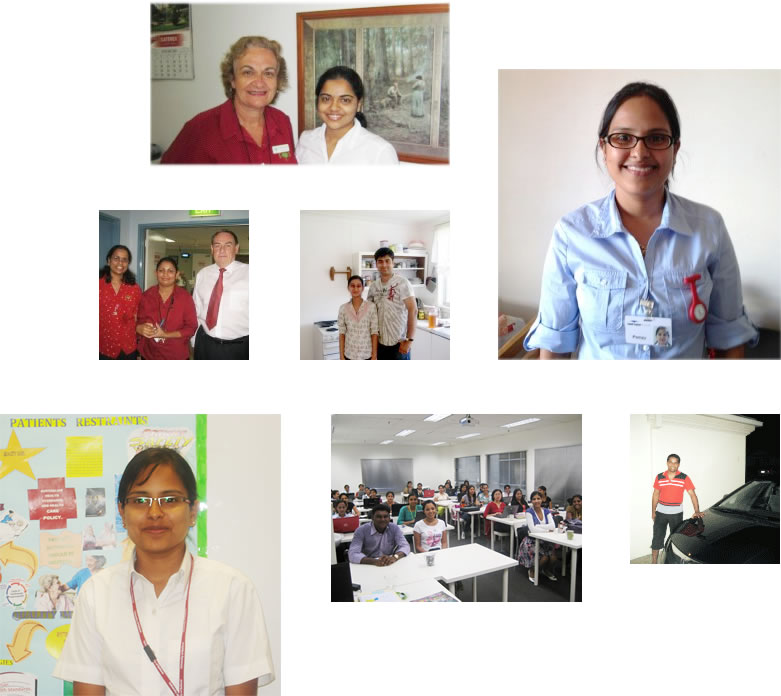 "I like everything about this country – the people, the living conditions, the culture – and I'm very thankful for Nursing Careers Australia in helping me find a great job so quickly."

Shankur from Kerala
"I like everything about this country – the people, the living conditions, the culture – and I'm very thankful for Nursing Careers Australia in helping me find a great job so quickly."

Shankur from Kerala
"I like everything about this country – the people, the living conditions, the culture – and I'm very thankful for Nursing Careers Australia in helping me find a great job so quickly."

Shankur from Kerala