Browse our comprehensive Frequently Asked Questions below.
Need help? If you can't find an answer below then contact our friendly team for more assistance.

Work visa and Sponsorships
Documentation Required in Applying for Registration
An annual practicing licence is a document issued by the nursing and midwifery regulatory authority after payment of renewal of registration fee, is renewed annually
Listed below are the only people who can certify documents submitted to the ANMC:
       

Legal Practitioner

       

Justice of the Peace

       

Peace Commissioner

       

Commissioner of Oaths

       

Commissioner of Declarations

       

Notary Public

       

Judge

       

Magistrate

       

Person legally designated to sign documents from an embassy or consulate

       

When certifying documents, the above person needs to include the following statement on each document;
"I certify that this is a true copy of the original document which I have seen."
Signature: Date:
Contact Address: Phone number:
Official stamp or seal if available with address and phone number.
It is suggested that the person who certifies your application form is the same person who certifies all of your documents.
A Verification of Registration is a letter confirming registration and good standing of a nurse or midwife.
It is provided by the organisation responsible for the registration of nurses and midwives in your country.
Verifications must be sent directly to the AHPRA to whom you are applying.
Copies of verifications sent by you, or your agent will not be accepted.
English Language Proficiency Requirements
Each state has marginally different English language requirements.
However the general rule is;
       

International English Testing System (IELTS)

       

Academic Overall Score: 7.0

       

Band Scores: Speaking,Writing ,Reading,Listening 7.0

       

Occupational English Test (OET)

       

Pass at "B" level in each of 4 components

       

Pearson Test of English (PTE Academic )

       

Pass at "65" in each of 4 components

       

An English language test may not be required where an applicant's nursing or midwifery course was undertaken in :

       

New Zealand

       

United Kingdom

       

Ireland

       

United States
·         Selected areas of Canada
Relocation after Registration & Visa Approval
Australian Nurse Registration process
More like a family than a recruitment agency.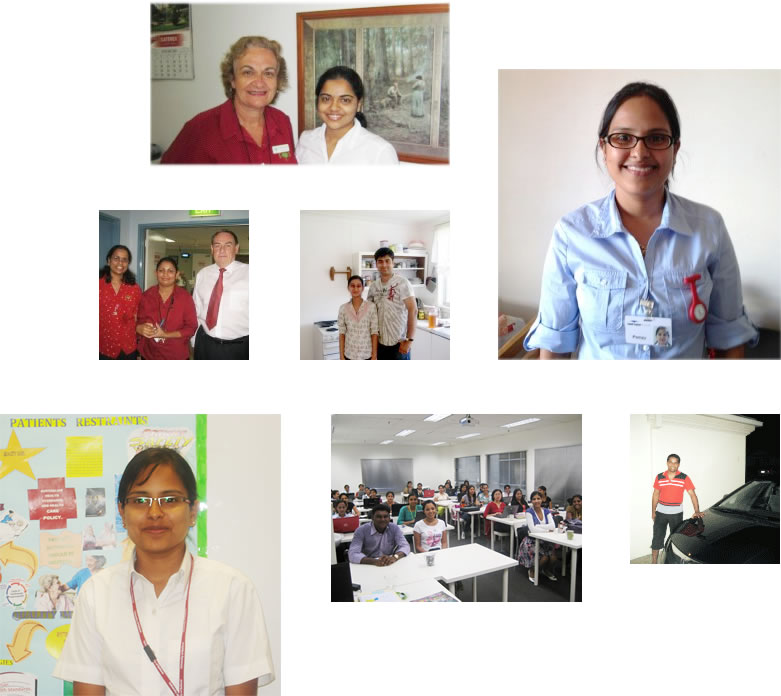 "I like everything about this country – the people, the living conditions, the culture – and I'm very thankful for Nursing Careers Australia in helping me find a great job so quickly."

Shankur from Kerala
"I like everything about this country – the people, the living conditions, the culture – and I'm very thankful for Nursing Careers Australia in helping me find a great job so quickly."

Shankur from Kerala
"I like everything about this country – the people, the living conditions, the culture – and I'm very thankful for Nursing Careers Australia in helping me find a great job so quickly."

Shankur from Kerala